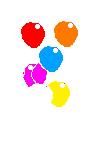 If you have an upcoming birthday... then 8 Seconds is the place to have your party!

Bring yourself and 5 friends for free admission on our designated Birthday Night during the month of your birthday. It's that simple!

We decorate the club with balloons to make your birthday a special day to remember. You can probably even get the band to sing you a tune!

Give us a call if you or a friend has their birthday coming up and let's get the party started! 317-486-1569


November 16th - Cornfield Mafia
December 14th - Corey Cox



Click HERE to fill out the Birthday Night Form.